Our New Year Gift to Jigsaw customers is now ready to be opened. It's something we've had in the making since the start of 2021. A completely new, vastly improved "Order Flow Foundation Course". It's available to all existing Jigsaw daytradr users Free Of Charge.
It's also going to be made available to all new Jigsaw daytradr customers!
Jigsaw is often referred to as the "Gold Standard" in Order Flow Education. Specifically - our "ground up" "Order Flow Foundation" course, launched back in 2014. It takes you from zero knowledge to fully understanding the "what's" and "why's" of Order Flow, without resorting to a lot of confusing terminology.
That's why if you go onto online trading forums and Facebook trading groups asking "what's the best way to learn order flow?" - you'll be pointed in our direction.
Not only that - a number of prop firms use it (with our blessing) to initiate their interns in Order Flow concepts when they first join. One trader told us "I went on a professional course run by B******* that my firm paid $14k for, and it didn't cover the topic with this depth and clarity".
So yes - we are proud of it - BUT - it was getting old and while we do know Order Flow - our business isn't education.
So we decided to get help
The help we found was in Jasen Baker who is an expert in education. Not 'school education' but training - the sort of knowledge transfer in short courses, usually for companies and often delivered to 10's of thousands of people at the same time. He also has a passion for trading and has been in the game for over a decade, so he knows all the terminology. The Perfect fit. We worked with him so he could wrap his head around the existing content, and then he took the lead. The outcome is beyond what we'd hoped for.
The new course was developed - with the following goals in mind:
The information from the original course wasn't lost - that we covered each point
That it became more rounded in terms of providing trade location information (not just icing on your cake but cake too!)
That we leverage best practices from the Education so that the information stays in your head and is super clear. Hence the varying video lengths used to explain core concepts.
Nobody falls asleep listening to me go off-topic and talk about my dog.
The content is very clear, well organized, easy to absorb, and not overwhelming or intimidating.
Student Benefits
We wanted to see the success rate of our students increase and have more people to get through the initial learning stages as quickly as possible. Plus - everything can be made better, so over time - everything gets replaced.
At the end of the course - you will finally get what Order Flow is about - and you'll have setups to confirm with Order Flow (or used in isolation). It's a more rounded offering. Previously, the presumption was most traders had setups already or could find them through other content on our site. Now, it's all wrapped together in one place. The course will help you as a new Order Flow trader, through taking your first steps, then gaining confidence in using Order Flow and ultimately becoming a better trader.
And it wasn't just the theory side we improved. We redesigned how we teach the trading drills.
That "a-ha" moment in trading - for the first time, observing a cause that has a specific outcome - is now within the reach of a much wider range of traders.
Syllabus
There are 7 sections:
Introduction - Trading like a prop firm, important futures trading concepts, price discovery process
Getting started with the tools - focus on how to set up your order flow tools
Professional Trading Drills
Understanding Order Flow - The "Why", Liquidity etc
Order Flow Tools - Order Flow is a set of information that tools render. We take you through various tools, when they are used, the benefits, what to look for
Trade Setups - With details on how order flow will vary through the life cycle of the trade
How do I get it?
All daytradr owners have access to the course. Including those on the $579 "daytradr Independent" entry level package. Lifetime access to both the course AND the software.
The course is accessed by clicking on the "2022 Flow Foundation Course" on the button bar on the members page:

Or you can find it under "My Courses" in Journalytix, where all future courses will be hosted to ensure everything is under 1 roof!
So - was the original course that good?
Well - don't take our word for it, take a look at these reviews from Trust Pilot: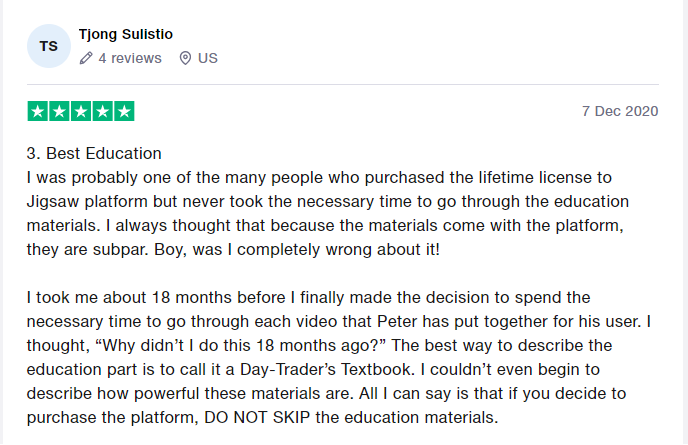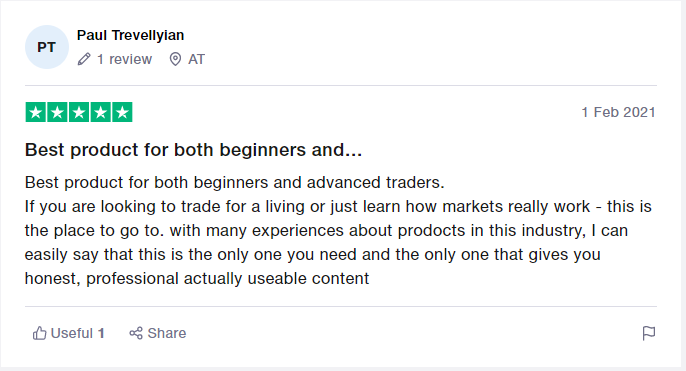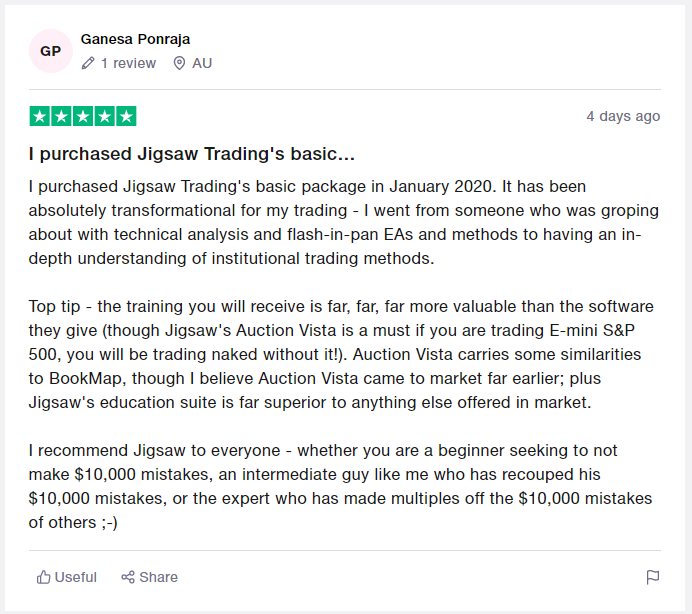 Right now - we are keeping the price of $579 for the lifetime access of the tools, basic analytics AND this amazing course.
Our advice to all existing customers - take a look through, even if you went through the old course, we guarantee something new will sink in.
For those that have been on the fence - wondering if we really could provide such good education AND the software for $579 - it's true - and there's never been a better time.
Finally - a BIG thank you to Jasen and to the Jigsaw Inner Circle members for testing out the course and giving feedback to help us make it even better.