The February leaderboard results were always going to be interesting. We had a huge spike in volatility at the start of the month and the markets were erratic throughout. I'm not personally a big fan of volatile trading conditions but it seems to have really suited some in the Jigsaw trading community.
This month 62 out of the 122 participants made a profit in February. Just over half of you - so well done as that's a huge improvement from last month.
As you likely know, the leaderboard is an optional feature of the Jigsaw analytics system. It rates traders by a proprietary consistency algorithm. P&L is NOT taken into account in the ratings - but P&L follows consistency. You cannot win the monthly contest by "swinging for the fences". This month user "mrgekko" wins again but it was really close with "VaidasJ" coming in just 1 point behind with a rating of 68, compared to Gekko's 69. So well done both traders. Gekko wins this months $500 prize.
The top 10 results are below - you can click the image to see full size.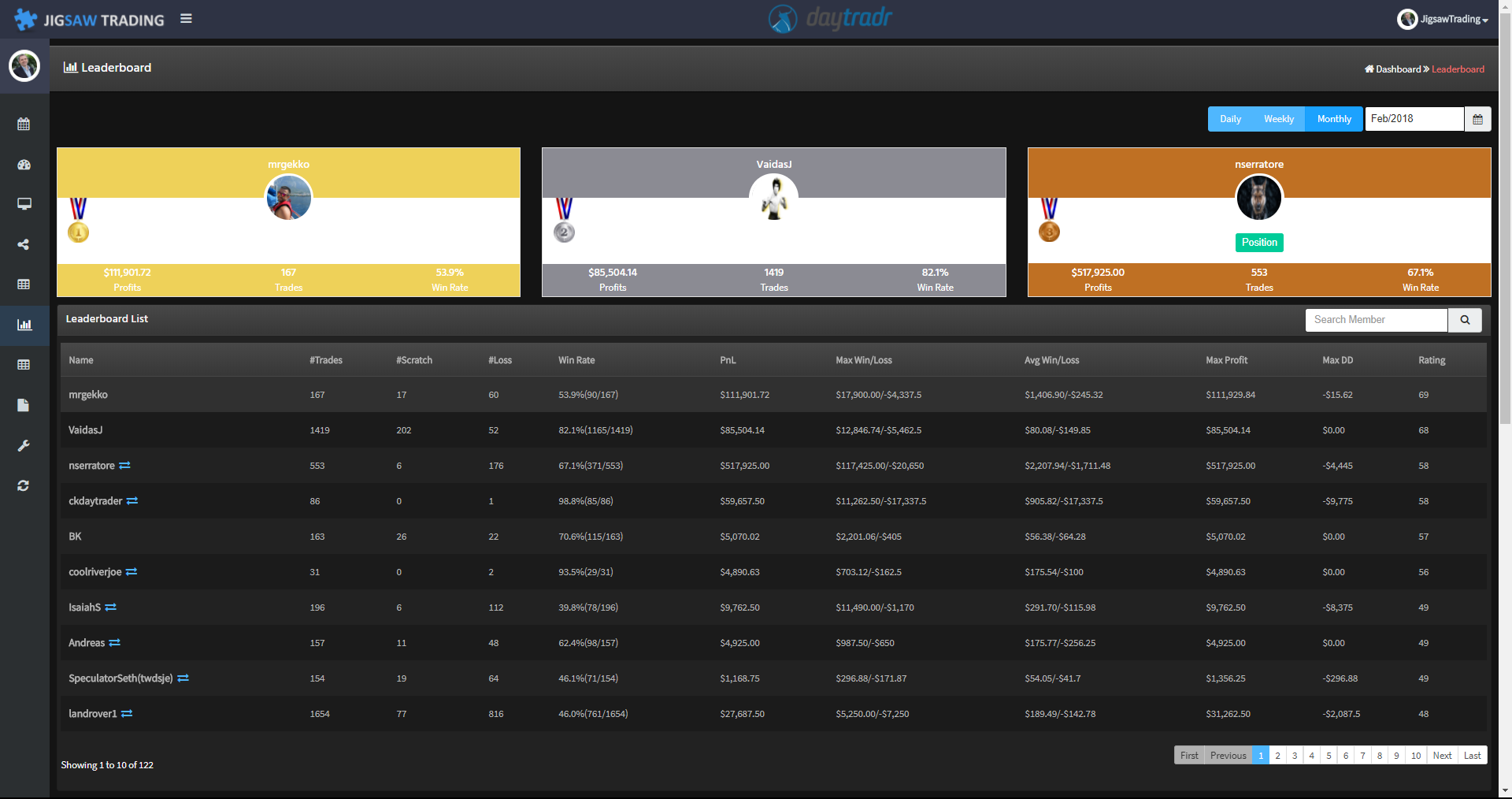 As you can see, the top 2 leaderboard traders are trading very different styles:
Gekko - is trading outright positions with a holding time of around 7 mins on average. His trade frequency is low and his win rate is just above 50%. His winners are almost 7 times the size of his losers, which is where the profits come from.
Vaidas - is applying market making techniques. Very high frequency of trades, lots of scratched trades. His average hold time for scratched trades is 16 seconds. Which means Vaidas is REALLY good at just getting out of the way if things don't look good. His average hold time on winners is just over 1 minute.
So we have 2 very different trading styles, different win rates and holding times.
Overall, it looks like traders benefitted from the increase in volatility. If you are one of these traders and you were trading the S&P, it's worth thinking about whether your style is more suitable to a fast market. If so, when the S&P slows down - do you really want to stick with that market? It's food for thought...